If your video selfie is failing, here are some tips on how to improve results and be successful.
Desktop
If you're trying to complete your video selfie on your desktop, you will have 7 attempts. Please see the tips below to help you successfully complete your video selfie:
Quality of webcam
Make sure your laptop or desktop is on a flat surface. Look straight at the camera and carefully. follow the instructions on the screen.

Keep your face framed in the green oval.

Take photos in an evenly-lit room and ensure there is no glare or reflection.

Ensure there is no back or side-lighting causing shadows or partial darkness on the photos.

Ensure the photo is not washed out.
Multiple webcams
If you have multiple webcams, you can go to your browser settings and choose the default camera you wish to use. If you're using Chrome, follow these instructions to choose your default camera:
Go to 'Settings'

Click on 'Privacy & Security'

Go to 'Site Settings'

Under 'Permissions' on the Site Settings page, click on 'Camera'

Click on the drop-down arrow and select the camera you wish to use as your default camera
If you are still facing difficulties, will be redirected to the video selfie landing page below. From here, you can choose to complete your video selfie using your mobile device camera or using the Civic App on your mobile phone.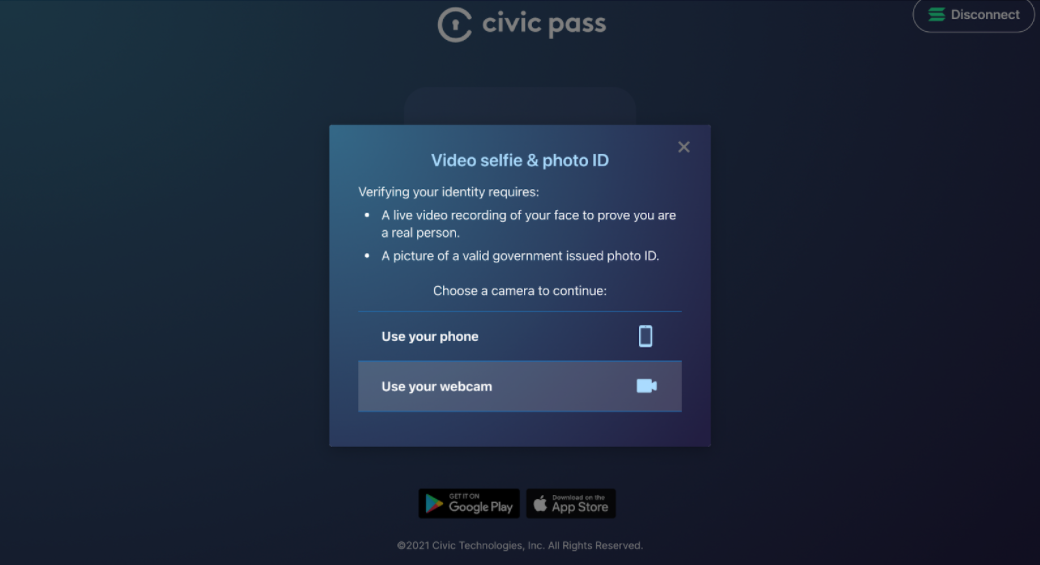 Mobile
Using your phone
Click on "Use your phone"
You will be directed to a page where you must scan a QR code with your mobile device's rear camera or your QR code scanner app
Follow the on-screen instructions to complete your video selfie with your front camera
Using the Civic App
If you wish to complete your video selfie (and identity document verification) using the Civic App, you can do so from the Identity Verification Requirements page: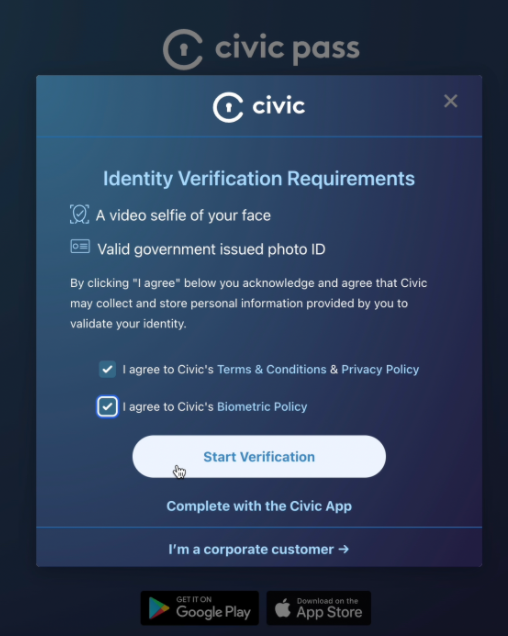 On your mobile device, download the Civic App from the Google Play store or App Store.

Complete basic verification using your mobile number and email address

Refresh the page or close your browser window to begin the process from the beginning so as to land on the Identity Verification Requirements page. C

lick

'Complete with the Civic App'

.

A QR code will pop-up. Scan the QR code using your Civic app. Follow the instructions on screen to complete verification using the app.
If you still have issues with this, please feel free to contact our support team and include a screenshot of the issue(s) and error message(s) you're experiencing.